Recently, Sega revealed the release date for CHUNITHM's first sequel, CHUNITHM AIR. It will start running in Japan's arcades this week, on Thursday 25th August. Over the past week or so, they've been teasing new features, songs and events so this article is intended as an overview of what's been revealed so far.
New Features
To promote the new game, Sega revived the CHUNITHM Research Lab (CHUNITHM研究所) on NicoNicoDouga and invited 'the best music game player in the universe', DOLCE. to play it to demonstrate the new features.
You can see the video for yourself **here**, but here's a summary of what's new:
New note-types – There are now new, separate 'down' and 'up' variations for AIR and AIR-ACTION notes (previously AIR was basically up-only whilst AIR-ACTION was always a free choice).  There may be a diagonal aspect to this (it's not completely clear in the video), but I'll update as necessary.
Map choice – Players will be able to choose which map to proceed with at the start of each game.
Character-specific map progression bonuses – Depending on the map, certain characters will come with a progression bonus, allowing you to move an extra block (masu) on the map.
Character level limit break – For players with maxed-out characters, using a special item (penguin statue in the video) will enable the max level of a character to be increased.
New nameplates – Players will be able to choose different looks for the 'cards' that show their play data (the info on the top left of the screen with name, level, rating, etc.). The video shows a penguin design, but I'm sure there will be more to unlock down the line.
That was it for the video!
New Songs
In addition, they've been slowly releasing details of the new songs and the first AIR collaboration events.
First up, this set of new songs will be available to play with the launch of the game:
The list is:
フレンズ -  レベッカ (covered by 光吉猛修)  [Friends – Rebecca (covered by Takenobu Mitsuyoshi)]
夏祭り - JITTERIN'JINN (covered by ろん) [Natsu-Matsuri – JITTERIN'JINN (covered by Ron)]
Rising Hope – LISA
fake!fake! – カラスは真っ白 [fake!fake! – Karasu wa Masshiro]
月に叢雲華に風 - 幽閉サテライト feat. senya [Tsuki ni Murakumo, Hana ni Kaze – Yuuhei Satellite]
幻想のサテライト – 豚乙女 [Gensou no Satellite – Buta-Otome]
凛として咲く花のごとく - 紅色リトマス [Rin To Shite Saku Hana no Gotoku – Beniiro Litmus]
Private Service (from PACA PACA PASSION 2)
Air – Shiki
DataErr0r – Lunatic Sounds
ドキドキDREAM!!! – イロドリミドリ [Doki Doki Dream!!! – Irodorimidori]
Personally, I'm most looking forward to 凛として…, both for continuing the crossovers between Sega and Konami's music games and just for being one of my favourite Bemani songs.
Next up are the new CHUNITHM original songs. Three have been announced so far and they all are 課題曲 ('Challenge Songs', the songs you have to pass to get through the maps). They are:
その群青が愛しかったようだった! – n-buna & ヤギヌマカナ [Sono Gunjou ga Itoshitakatta Youdatta! – n-buna & Kana Yaginuma]
心象蜃気楼 – Orangestar [Shinshou Shinkirou (Mental Mirage) – Orangestar]
First Twinkle – 折戸伸治 feat.北沢綾香 [First Twinkle – Shinji Orito feat. Ayaka Kitazawa]
New Collaboration Events
Sega also announced the first events, and in what was certainly an intentional move, the first collaboration event will be with the 2005 'Air' (har-har). Taking part will give you access to '鳥の詩' ('Tori no Uta') by Lia and '夏影' (Natsukage) by Visual Arts/Key. I'm sure this will be a nostalgia trip for many players as well as an.. interesting way for Sega to push the new game's title.
At the same time, there will also be a collaboration event with 2011's hit anime "Ano Hi Mita Hana no Namae o Bokutachi wa Mada Shiranai" ("We Still Don't Know the Name of the Flower We Saw That Day"). Early access to 'secret base ~君がくれたもの~ (10 years after ver.)' is awaiting players who complete it.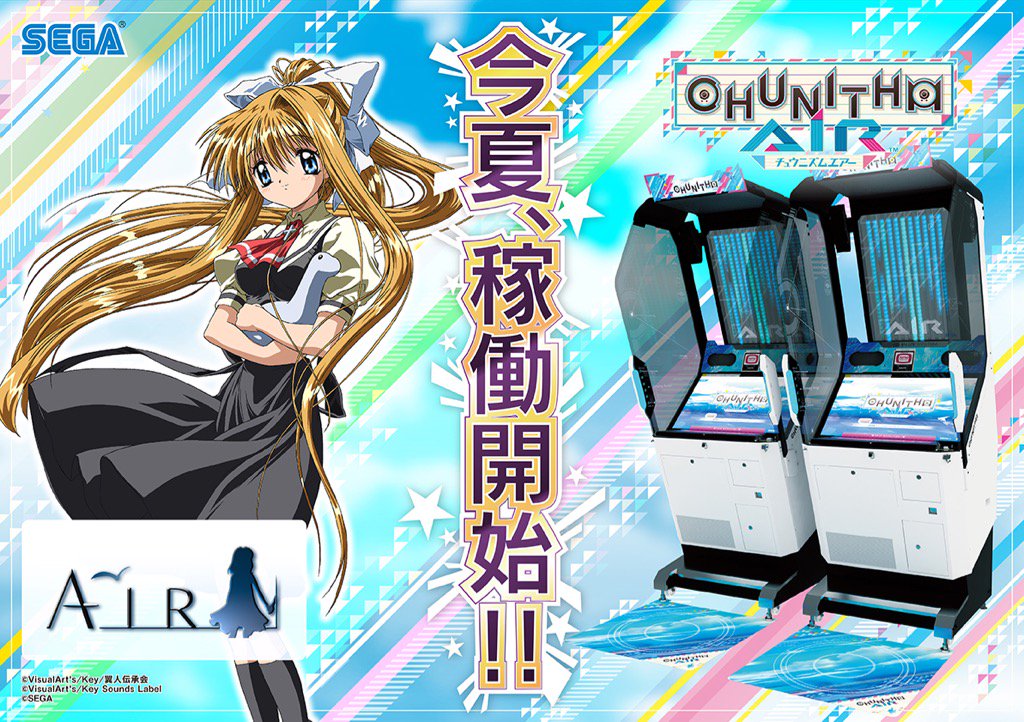 That's all for now.